http://www.theguardian.com/artanddesign/2016/may/22/surfing-in-palestine-the-occupied-territories-as-youve-never-seen-them-before-tanya-habjouqa. The link takes you to the piece published in the G2 on Monday 23rd May 2016. This however, is what I actually wrote. To follow will be a much more detailed article about the weary bending and accomodating to fit the Western model of news and journalism. Who, indeed, does have permission to narrate?
In the prologue to Tanya Habjouqa's book, Occupied Pleasures, launched in the UK next week, Professor Laleh Khalil- Habjouqa's former tutor at SOAS- provides a powerful introduction:
"When war, colonialism, or extreme political violence become the scaffolding of everyday life, photojournalism emerges as the most prevalent document recording the enormity of the prevailing conditions. This photojournalism is crucial. The obligation to remember our histories and pasts can only be met if we have imagery with which we can narrate what has happened to us, and the work of photojournalists provides some of this imagery.  Without this work we would not be able to imagine the vastness of the system of control the Israeli military uses to discipline Palestinians; without this work, the moment of conflict, of violent collision, of loss, would remain anaemically verbal. That so frequently the occupied Palestinian territories are subjected to curfews and closures, to enforced invisibility behind walls and detention centres and security zones, reinforces the necessity of making politics visible through images and news items. …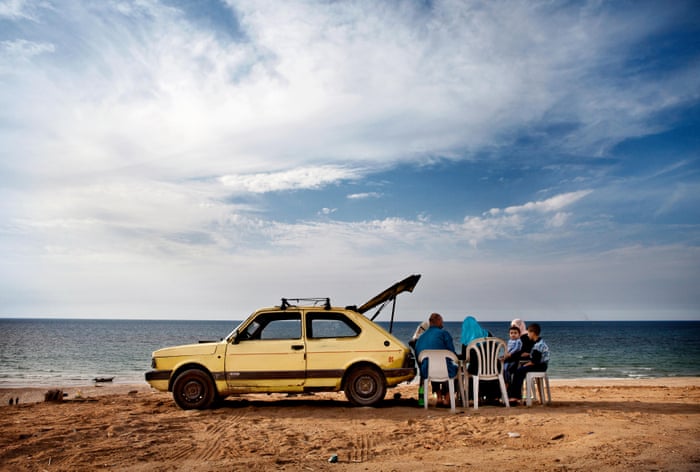 Credit Tanya Habjouqa/Panos
Tanya Habjouqa's book, "Occupied Pleasures" is a personal project, and will be launched at the School of Oriental and African Studies on May 26. The book made the best photo book of 2015 in both Time Magazine and Smithsonian. It arose in 2009 after dissatisfaction with mainstream narratives of the daily reality of kafka-esque checkpoints and militarized limited movements.  Habjouqa says,
"Israel and Palestine is almost always told in reductionist manner with the same tired tropes. Where Palestinians are either victims of or proponents of violence, and rarely with the nuanced context needed".
Ultimately, it was her marriage to a Palestinian and having children that motivated Habjouqa to take different photos. She says,
"Having children here who are inheriting the heavy weight of this narrative, I wanted to find a way to explore this and celebrate the impressive human side of how the Palestinians, despite almost 49 years of occupation have kept their humanity, civil society, and respect for one another as a people. "
Habjouqa  is unequivocally contradictory and unboxable: her photos speak of quiet politics, humor, and play with juxtapositons of gender and humanity and unexpected entry points to worn stories.  She has photographed the only all women Palestinian car racing team and documented a brief period of a vibrant Palestinian and Israeli draq queen community in Jerusalem.  She is a founder member of all-female documentary photography collective Rawiya ("she who tells a story" in Arabic) and regularly talks and exhibits around the world.
Occupied Pleasures took many months of research, of developing trust, and Habjouqa set out to act ethically, and to make sure that her subjects felt treated respectfully. Habjouqa says that many Palestinians she meets feel
"A political obligation here to talk about their suffering. They were startled when I asked  about pleasure. They would slowly ask pleasure? WE don't usually discuss pleasure. And in fact, while the pictures may seem light and easy, it took fostered trust to show that I was not working on an agenda to show "things were hunky dorey under occupation or diminish it in some way.
Habjouqa's work, which shows everyday lives often in ironic juxtapositions, is not intended to normalise the occupation, as some critics may have suggested. Instead, it actually shows every day inner resilience.
"As one of the most covered and scrutinized media stories in the world; many journalists often work with a timid paranoia in how they portray this reality. Trying to report this occupation in a supposedly "balanced" way that actually distorts the lived reality. To borrow from the title of a superb work by Edward Said, by marrying into this conflict and having children here, it gave me "Permission to Narrate". To say things more directly…. and to explore in my work a more overt social documentary nature not timidly outlined in hard news restrictions."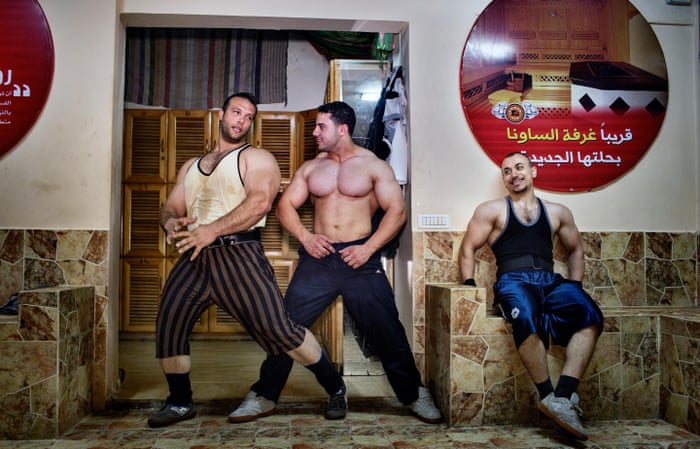 credit Tanya Habjouqa/Panos
Like the Middle East, Habjouqa – as an articulate feminist photographer- is now at the centre of gaze, and she is keen to use this platform to fundamentally change the media's approach to the Middle East. Occupied Pleasures started from an interview in 2009 with the groom featured in the wedding photograph glued to a rust-coloured wall. Having fallen in love with his Jordanian bride on Skype, the groom snuck her through the tunnels to Egypt, embracing her in what he describes as a scene snatched from a Bollywood film. He said to Habjouqa, "No matter what this occupation does to us or takes, we will always find a way to live and love. And maybe even laugh".
Simultaneously, Habjouqa became increasingly dissatisfied with assignments that seemed to simply reiterate the clichés and tired tropes and even grossly diminish affects, scope, affects of occupation.
"I was often being asked to do the same stories- diminishing Christian numbers struggling in Muslim majority Bethlehem (despite fact that both Muslim and Christian Palestinians equally struggling for their rights). , Or when a complex story would appear, such as a friendship formed between a Palestinian from West Bank and Israeli Jew in cancer treatment…(imagery that spoke to the intimacy of the friendship and uncommon decision of a Israeli Jewish woman visiting her friend in her West Bank) these were pushed out of the edit in favour of walls and check points without context."
She decided to go deeper, to lean on her anthropological training (which favours immersion, forming relationships, gaining trust and taking her time), and to try and explore the nuances. But Occupied Pleasures was a completely new direction. Her style is a combination of street photography and slow nurtured relationships; when faced with reluctant or shy teen agers (often girls), she built up relationships via facebook, a disclosure of her own personal life, rather than just turn up and shoot.
Habjouqa Is understandably irritated with ongoing questions about niqab, the veil, and the burkah.
"As a woman from region (Habjouqa is Texan/Jordanian with Circassian ancestry) covering the Middle East, what I find orientalist, reductionist, simplistic, and outright baffling is the inordinate obsession with women in hijab. We are talking about a shocking period of tumult, of occupation, displacement, breakneck geo-political developments….utter violence in Iraq and Syria. The rise of a terrorist entity that has access to selling oil and the creation of a state. Why discuss the veil? It is such a non-issue for me. Your average middle easterner or enlightened traveller, journalist, or academic will not focus on it. Unless it is intended to sell. Sex sells. And when talking about the Middle East, the veil sells. The same picture, of a woman on a beach peering to sea with hair showing versus a woman in hijab staring at sea will illicit different intrigue and publishing options. It is harmful, the utter lack of knowledge of various Middle East communities. The lack of diversity and vibrancy ascribed  to Muslims and Arabs. We need a sophisticated and more nuanced conversation. if you can present people in their complexity people can relate to them much more, and this is what I seek to do.  The idea that most interesting or relevant part of their being is the veil is asinine".
With the hyper narration of Palestine, mocking or fetishizing of women in hijab, many in the region are aware of how they are often misrepresented.  A photograph from the series (taken just months after the 2009 Israeli military operation across Gaza) is of four veiled women who are working out, facing away like synchronised swimmers, wearing full "jilbab" or long trench coats. Access to the photo took some negotiation. The women were concerned that they would be mocked as being oppressed for wearing such long coats while working out.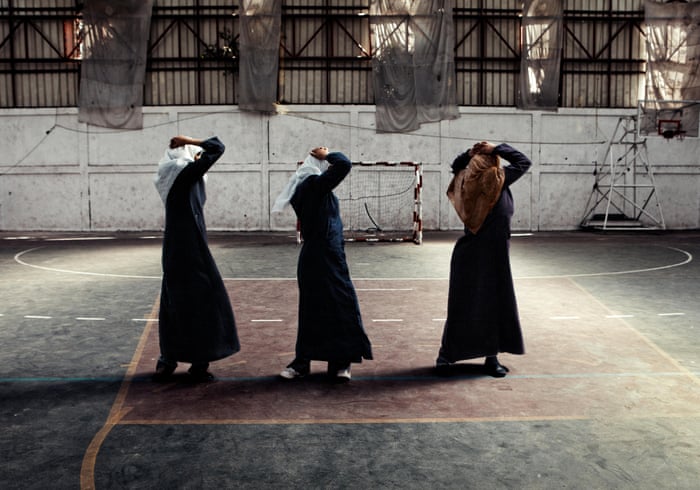 credit Tanya Habjouqa/Panos
"They said to me, we're going to be mocked or pitied by the West, look at those poor women and how oppressed they are….how the cover even while working out.  But in fact our neighbourhood has been decimated, we have nowhere private to work out, we have nowhere else to go but this very public high school building."
Habjouqa told them that this photo would be accompanied by a caption explaining their situation. And that is what is often lacking in mainstream media, the background, the context.
Hayat Abu R'maes, 25, and Nabila Albo, 39, take students out on a nature walk for yoga in Zatara, on the outskirts of Bethlehem. Sometimes they go to nature spots (one popular spot with Roman ruins) that settlers try to intimidate Palestinians from accessing. They call it "inner resistance". Credit Tanya Habjouqa/Panos
In one photo the two yoga teachers lead their students from Zaatara village on a nature walk to practice, with a beautiful landscape in background. They say they sometimes encounter hostile Israeli settlers. They call it "inner resistance".  It is a poetic, unpredictable, universal, humane response to a situation.
END