Original: Guardian 23 May 2016
Palestinians were baffled when Tanya Habjouqa first explained her photographic project to them. "They felt a political obligation to talk about their suffering," she says. "They were startled when I asked about pleasure. They would slowly ask, 'Pleasure? We don't usually discuss pleasure.' While my pictures may seem light and easy, I had to foster their trust to convince them I was not working to show that things were actually 'hunky-dory' under occupation."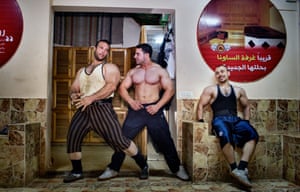 Occupied Pleasures, judged one of the best photo books of 2015 by Time magazine, takes an astonishingly fresh and vibrant look at the people of the occupied territories: from teenage surfer girl Sabah Abu Ghanim waiting for a wave, to three bodybuilders posing after a workout; from an elderly man sitting amid the paraphernalia of his son's new wedding business Bliss Life, to the airborne free-runners spinning through a cemetery near their refugee camp.
Habjouqa says she started thinking about the book in 2009 when she felt increasingly dissatisfied "with a tired narrative that held little truth in the daily reality of kafka-esque checkpoints and militarised limited movements". She adds: "Israel and Palestine are almost always presented in a reductionist manner. Palestinians are either victims, or proponents, of violence. There is rarely the nuanced context needed."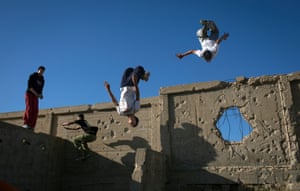 Although she was born in Jordan, Habjouqa was educated in the US, beginning her career in Texas, where she documented Mexican migrant communities and urban poverty. She now lives in the Middle East, having married a Palestinian and started a family. This, she says, was the final motivation to make Occupied Territories. "Having children who are now inheriting the heavy weight of this narrative, I wanted to explore and celebrate the impressive human side of how Palestinians, despite almost 49 years of occupation, have kept their humanity and respect for one another as a people."
Full of gentle humour, Habjouqa's photos play with gender and humanity, finding unexpected entry points to well-worn stories. She has photographed the only all-women Palestinian car-racing team and briefly documented a Palestinian and Israeli drag queen community in Jerusalem. She is a founder member of Rawiya, an all-female documentary photography collective whose Arabic name means: "She who tells a story."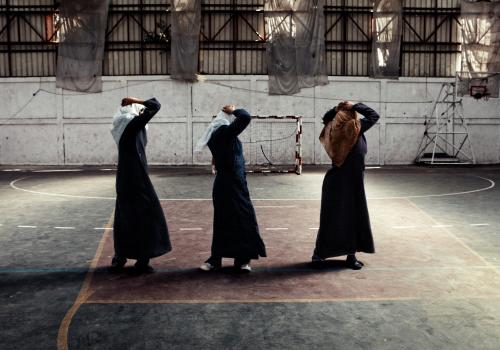 Although it shows everyday lives in often ironic juxtapositions, Habjouqa's work is not intended to normalise the occupation, as some critics have suggested. Instead, it shows everyday resilience. "It is one of the most covered and scrutinised stories in the world. Many journalists have a timid paranoia when they portray this reality, trying to report this occupation in a supposedly balanced way that actually distorts the lived reality."
Occupied Pleasures features a shot of three veiled women working out in a gym, facing away like synchronised swimmers and wearing full jilbab, or long trench coats. Access took some negotiation: the women feared they would be mocked as being oppressed for dressing that way while exercising.
Habjouqa gets very irate about western attitudes to such attire. "As a woman from the region," she says, "what I find orientalist, reductionist, simplistic and outright baffling is the inordinate obsession with women in hijab. We are talking about a shocking period of tumult – occupation, displacement, breakneck geo-political developments, utter violence in Iraq and Syria – why discuss the veil? It is such a non-issue for me. Your average Middle Easterner or enlightened traveller, journalist, or academic will not focus on it. Unless it is intended to sell. Sex sells. And when talking about the Middle East, the veil sells."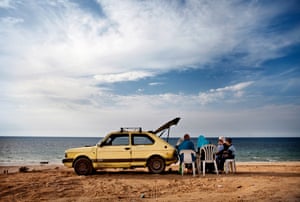 Habjouqa mentions another event that encouraged her to make Occupied Pleasures: an encounter with a groom who had fallen in love with his Jordanian bride via Skype. He sneaked the woman through tunnels into Egypt, embracing her in what he described as a scene snatched from a Bollywood film. "No matter what this occupation does to us," he told Habjouqa, "we will always find a way to live and love – and maybe even laugh."
• The UK launch of Occupied Pleasures takes place at the School of Oriental and African Studies, London, on 26 May. This article was amended on 23 May 2016. An earlier version misquoted Habjouqa.